Safety / Quality
COMMITTED TO SAFETY & QUALITY EXCELLENCE
SAFETY
When it comes to Safety, Barrier Group doesn't simply meet industry or client expectations. We strive to be leaders in providing our employees and clients with confidence to get the job done safely, every time and everywhere.
This commitment to our employees and our clients is reflected in our core values and the continuous improvements to our HSE Program including the integration of new technologies in all areas of our operations; including equipment, infrastructure and employee training.
We believe it is the fundamental right and expectation of every employee (and their families) that they leave the job site safely at the end of each day. It is an active partnership between the employee and the management team to ensure that all measures taken to provide a safe work environment happen. This is a continuous improvement process and strongly supported by the management team.
Proper attitude toward accident and injury prevention on the part of both management and employees will provide the necessary link in achieving our goal of zero percent lost time incidents.
Critical identification factor for safety:
Spot the hazard
Assess the risks
Find a safer way
Everyday
Management always strives to eliminate any foreseeable hazards, which potentially may result in any form of accident, injury or illness. In fulfilling this commitment to protect both people, property and the environment, management will maintain a safe and healthy work environment in accordance with industry standards and in compliance with legislative requirements.
Our staff receives the highest level of training and updates on the latest technologies and understanding the importance of safety issues including environmental concerns. Due diligence provides our staff and visitors with a safe working environment and Barrier Group is a proud member of the ISNetworld and Comply Works.
QUALITY
Barrier Group has developed a reputation for delivering Quality Services by placing high quality expectations on all of our Projects. Not only does Barrier Group possess some of the newest and most efficient equipment in the industry, we ensure all field crews are staffed with properly trained, competent and certified employees to ensure that Quality is never compromised.
Our certified tradesmen and QC personnel document each step of the process and supply our clients with complete QC turnover packages at the completion of all jobs.
Our Quality Control process is backed up with Internal Auditing to prevent re-work, improve work quality, identify areas for improvement and help ensure continuous improvement of our Quality Management System.
Barrier's divisional Quality Management structure helps to ensure the highest level of quality, integrity and credibility by having Quality Inspections and Auditing done by professionals who are trained, competent and experienced craft workers who have working knowledge of related standards.
Barrier's project Quality process (Planning, Inspection and Testing) involves the client, forming an open line of communication and a mutual level of understanding.
Through industry, Barrier Group is able to employ the latest technology and techniques to enhance the quality of our projects.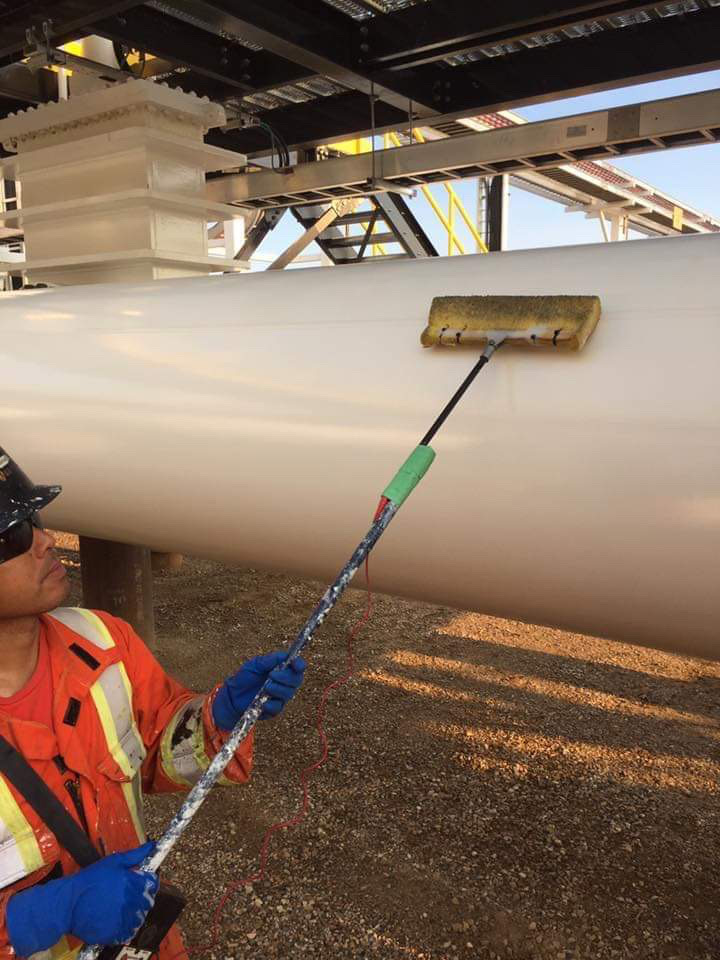 Maintained by a dedicated Quality Manager, Barrier's Quality Management System incorporates the quality requirements of SSPC (The Society for Protective Coatings) and CSA Z245.30 to standardize operating procedures throughout all divisions.
Barrier has been affiliated with NACE (National Association of Corrosion Engineers) and SSPC (Society for Protective Coatings) for many years and we train and employ craft workers within our Coatings Division who are NACE certified inspectors.
Barrier Group is also CSA W47.1 Division 2 welding company. Our welders are ASME IX qualified and are also credentialed to weld to CSAZ662. All welding activities are conducted using welding quality manuals, forms and ITPs.